Left History is a refereed bi-annual scholarly journal. It is perfect bound in a laminated cover, and runs from 115 to 250 pages in length.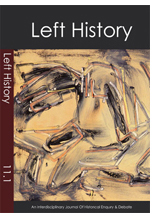 Left History features articles from a variety of theoretical approaches; these include feminist, marxist, and postmodernist deliberations on topics such as race, ethnicity, class, gender, sexuality, culture, the state, labour, the environment, theory, and method. Our print edition features articles presenting new research and theory, art, debate, books reviews, and review essays. Our online edition carries additional material including photography, interviews, fiction, film reviews, and personal narratives. Contributors include established authors and new writers.
Left History is indexed in America History and Life, Historical Abstracts, Sociological Abstracts, and the Alternative Press Index. We are in the process of making the journal available online. More information on this project soon.
Left History is available in Canada at many bookstores. It is distributed by Doormouse in Canada and Merlin Press in the United Kingdom. Left History is printed by Coach House Press in Toronto, Ontario.
For their funding and support Left History thanks the Department of History, the Faculty of Graduate Studies, the Graduate Students' Association, and the Vice President Research and Administration at York University. We also gratefully acknowledge a grant in aid from the Social Sciences and Humanities Research Council of Canada.